Press Release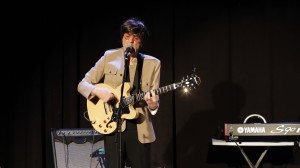 PaulTheBeatle   One-Man FAB!
Singer-songwriter Bob Halligan Jr portrays Paul McCartney in a one-man Beatlemania-esque show he calls PaulTheBeatle. This one-of-a-kind show covers the full career of McCartney as a Beatle and a solo artist in a singer-songwriter, theatrical format involving music, dialogue and onstage wardrobe changes.
Beginning in the suit worn for the first Ed Sullivan appearance, Halligan uses costumes, wigs and the Beatles voluminous catalogue of songs to detail the career of the most successful musician in the rock era.
Halligan's own songs have achieved solid success as well, with over 30 million units sold and 9 Gold or Platinum records, including recordings by Cher, KISS, Michael Bolton, Judas Priest, and the hit song "Don't Close Your Eyes" by KIX. His Celtic pop-rock band has toured internationally for 20 years, and he is an Adjunct Professor at Syracuse University teaching songwriting, film scoring and music business. He recently was the only American invited to sing at a Papal event in Italy, and met Pope Francis.
PaulTheBeatle is a unique, family-friendly presentation of the best known songbook in the last 50 years, complete with sing-alongs and moptop wigs.
PaulTheBeatle: One-Man FAB!